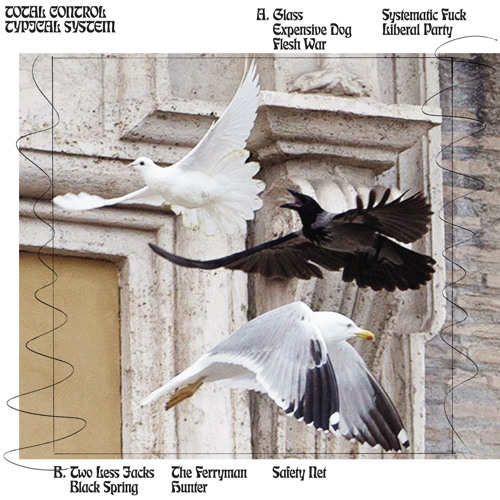 Nup, you've got to be joking. There's no way Total Control just released another album. Surely blood should be raining from the sky, swarms of locusts should be covering all available crops, and children should be crying. There's no other way that a band so holy could announce their second masterpiece without a spectacle at least on par with that. Anyway, whilst we wait for Beelzebub to raise from his slumber, you may as well just read this review.
The reason why I use such excited hyperbole when describing 'Typical System' is because this album actually succeeds the genius put forth from Total Control's debut album. They've moved in a million new directions, covering so much ground that it makes you want to throw up in jealousy and happiness. There is still the synth-wadded post-punk and insane fury there, but this time it feels like Total Control are adding more, fucking with the formula, and coming up with a potent potion that puts those mud concoctions you made as a kid to shame.
The main thing when venturing into 'Typical System' is that not one song acts as a signifier for the whole album, but rather all the songs together form a jigsaw puzzle that you can only solve after listening to the entire thing. Remember the satisfaction of completing a jigsaw puzzle? Well, gorging yourself on 'Typical System' multiplies that weird pleasure by a million.
However, there is a key to this jigsaw puzzle, and that key lies in the first two singles from the album, 'Expensive Dog' and 'Flesh War', two songs that couldn't be more different in sound if they tried. The former is just crushing, epic guitar, like Hans Zimmer on crack, and 'Flesh War; is a post-punk epiphany. Although I stand by the statement that no two songs on 'Typical System' are alike, they do fall into a category of heart-pounding, cynical ball-tearers, or the synth-wrapped post-punkers that are schizophrenically soothing.
For example, the opener 'Glass' is a shot, shining and altogether slinking electronic thing that sounds like Gang Of Four is being squeezed through a wormhole, whilst 'Systematic Fuck' is a screaming carnivore. As the chorus of 'You're the one to blame' rings out loudly and abusively, it becomes fairly obvious that Total Control aren't afraid of making enemies. Rather, they take pleasure in tearing down the walls of timidness and banality.
'Typical System' is so much more than an album by one of our nation's greatest treasures-it's a record that thrives upon the things that most people sweep under the carpet. Modern fears, modern truths and modern lies are all shouted out by Total Control, with the kind of unwavering energy that GG Allin had. Only instead of throwing their shit at the audience, Total Control use thumping music with more crunch than the Captain, and imprint their tunes with a seal of viciousness and whiplash that belies most of The Birthday Party's work. That jigsaw mentioned before? Fuck that, Total Control have smashed it to pieces, and created their own goddamn puzzle. Dark, foreboding, and looming, not above you, but with you, Total Control act as the heroes of modern day Australia with 'Typical System', and you wouldn't want it any other way.