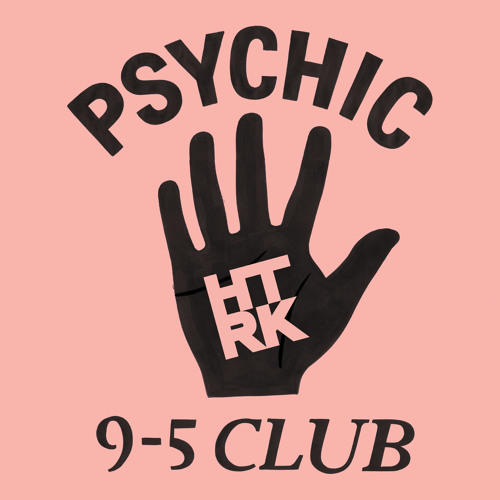 HTRK (pronounced Hate Rock-I made the mistake of pronouncing the letters for about six months before a friend with really good taste corrected me) have had a rough time. There's no joke to be made here, because their story is really sad. Initially a three-piece, they were reduced to a duo in the making of their (excellent) sophomore record 'Work (work, work)', when bandmate Sean Stewart committed suicide. But the remaining members of Jonnine Standish and Nigel Yang carried on, and are a continued and formidable presence of weird, pulsating and thinking music.
Now, I get that almost every album review is going to put up something about Stewart's death, but in this case, I only mention it because I see that this has, most likely, inspired them to move into realms they might never have felt comfortable exploring. The result of 2011's super dark and gruelling 'Work (work, work)' was an obvious testament to the will and passion of Standish and Yang, and its impression remains lasting. But after three years, the question a few will ask themselves is if HTRK remain relevant.
Oh. Oh yes, they totally do. There is still a drive and distinctive quality to HTRK that does not exist in any other band right now. But rather than the overtly brooding nature of 2011's effort, 'Psychic 9-5 Club' injects a more fluid, flushed and light work. It doesn't crush with intensity, but it whispers with a deadly passion nonetheless. Gone are the heavy clicks and bass thumps, to be replaced by shuffling electronica, and subtly whirring synths that move in and out of the music with the caress of a mother ninja.
Seriously, every song on this album is a work of total beauty, majesty and poise colliding together in a super-soft explosion. Standish's vocals smother like never before, and the instrumental work is flawless. Totally. Flawless. The opener of 'Give It Up' encases this, where a gothic shimmer pervades, and introduces the audience to the newer HTRK. It has a very similar pace and quiet intensity to artists like New Look, or Fever Ray. It shows that you don't have to scream and shout to immediately capture the attention.
This continues throughout the album, each song slightly building the swaying tower. 'Feels Like Love' glitches away like old school Jon Hopkins, 'Wet Dream' succumbs to a squelchy, whistling haze, and 'Chinatown Style' makes itself so quiet, it's like you have to bend down into your speakers just to catch the brief glances of beauty that's flurrying away inside the song. These songs are like tiny sprites running around inside the reflections of glass, small and fast, almost naked to the eye, and only those that pay attention are rewarded.
There never should have been any fear that HTRK wouldn't deliver. Standish and Yang are competent musicians, and they would always lay something down worth paying attention over. But 'Psychic 9-5 Club' is a haunting, ethereal piece that smoothly wraps itself around your brain and ensnares you with the addiction for as many repeat listens as your body can handle.
HTRK are playing at the Civic Underground on 10 May. I would highly recommend attending.