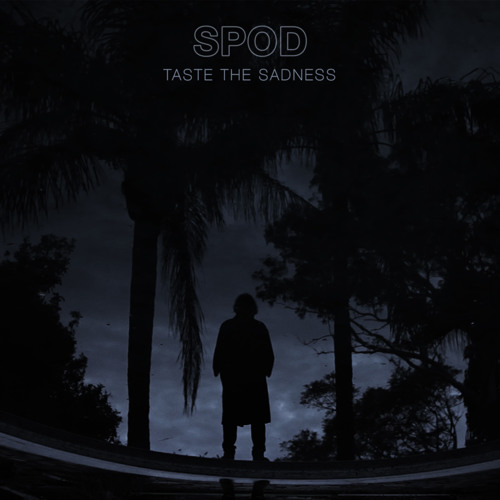 I have many regrets in my life. Why did I let her go? Why couldn't I have been a better son? How come I turned down that 2-For-1 kebab deal? It was a strong fiscal decision! But really, one of my largest regrets is not getting into SPOD until a mere year ago. I used to see this guy's mug all over the Internet, with people doting on how he was such an excellent, exciting and brilliant songsmith and/or party starter. "HUH!", I would exclaim to myself, alone in my room on a Saturday night. "I only listen to rawk music! This guy doesn't quote the Foo Fighters as a major influence, what a DOUCHEBAG! HAW HAW HAW, serve me up another slice of that sweet, sweet Slipknot!"
Little did I know, I was missing out on one of the biggest legends to have adorned Sydney music. A mere 11 years ago was the release of his debut record 'Taste The Radness', an disgusting molestation of the senses that, to this day, remains unparralleled. On this planet, there exists no bigger legend than SPOD, and if you were like me, and think that he's not for you, I urge you with every inch of my soul to listen to his music. From "Letz Dance" to "Deadshits", and everything in between, SPOD remains to be THE MAN.
However, just as my love for SPOD's original and visceral tunes were hitting their peak, SPOD decided he wanted to go and fucking grow up, reframing his classic debut 'Taste the Radness' into an updated ode to the depression of seeing your better years behind you. GROW UP!? SPOD!? As in, like, get a real job, settle down, get married, die in a coffin? What the fuck? I mean, at the very least, I always imagined SPOD would pass from this mortal world after doing battle with Poseidon or something. Not like this. Anything but this.
However, in a weird twist, SPOD has created an adult album, about being an adult, and injected so much sadness (the only real emotion to be connected with growing up) that you actually begin to crack and tear at the thought of SPOD's process of creating this album. Obviously, our old mate has been torn up by the inevitable, and he's written an album so heart wrenching, it makes the ending of Lassie being shown at a funeral look like graduation day aka the happiest day of your life.
It seems that for the first time, SPOD is being straight with his audience, telling them how he honestly feels, and from that you can't help but crumble. A musical revolution has been implemented – gone are the frantic synths and thumping beats, to be replace with piano and light snare/hi-hat combos, drowned under SPOD's vocals. From the surface, it appears like a Kate Bush, or PJ Harvey album.
But then, SPOD's lyrics, the foremost important thing to SPOD's songs, and the thing that personally drew me to him, appear, and you see that SPOD, although at his lowest, is at one of his most honest. "Last Dance"? That song is a bonafide way to crush any hope in the world. You could've just recovered from the most debilitating flu in the world, and have won local bingo, and you'd still be floored by the way this song manages to turn your eyes into salty mush. On "So Lonely", he spins a tale of such heartbreak and tumbling depression, with a chorus"I'm so lonely", that he makes it weird to not be crying by the end. "Totally Sad" sees the lyrical mastermind ring out with "Your personality is so despised, alone at home watching the Price Is Right….You look like Sean Penn brought the girls to tears, now you just look more like Britney Spears" and with "Hell No", probably the most angry SPOD gets about age on the record, he smashes out the line "I'm a billion years old, years are taking hold, dick is covered in mould, and beer bloats my soul".
Despite SPOD doing a 180 on his previous musical sound, and risking everyone's love for him, turning his former Andrew WK-meets-synth-explosions tunes into a spillage of all his inner thoughts about life and growing old, 'Taste the Sadness' ends up becoming the ode that every person over 30 needs. You can see it in the eyes of every has-been, every former child star, every high-school rugby 1st XV player. That spark that they know will never come back. SPOD has taken that, and wrought it into physical and audible being, a sadness that can only come from once tasting the radness. But rather than let it destroy him, SPOD has commanded it, and dominated it. Although this is the saddest we've ever heard SPOD, it's also his most self-assured and fortchoming. Although the beats are gone, SPOD still remains. He may not be able to party with the kids anymore, but he's our SPOD y'hear! And we love him in all his forms, but the sad and the happy. Although this album might be SPOD's little swansong to his glory days, it doesn't show for a lack of talent or radness.
'Taste The Sadness" is out now on Rice Is Nice Records, and old mate SPOD is planning for a launch at everyone's favourite pub The Lansdowne, 'Dinner & Show' on September 19. Get there mate.