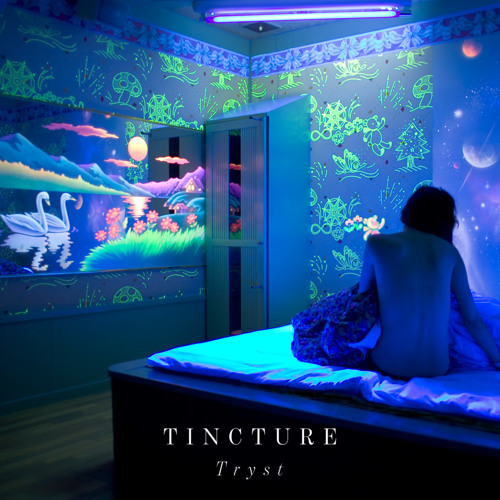 After dropping 'Tryst' a couple months back, it became fairly obvious that the world was on the verge of getting its next shit-hot Australian producer. Not since Hayden James' jaw-dropping EP of last year has something so timidly captured the hearts and minds of me, myself and I(if you're confused, I exist on multiple planes of existence, like the Dalai Lama or the guys from GWAR). And now, the unsheathing of Tincture's debut EP has arisen upon our souls. God help us all…
The first track from the EP is the recently dropped 'Similar Circles'. You may remember that I turned into a bit of a fan girl, and tried to cut off Luke Dalton's earlobes, hang them from my own earifices, and create a personal version of 'Similar Circles'. A remix, if you will. Needless to say, Dalton calmly 'talked' me out of it, and I returned back to Sydney with an anomaly of bruises and my Buffalo Bill fantasy unfulfilled. So, it's pretty obvious that 'Similar Circles' rules. Think of SBTKRT and Grimes getting together in the outback, and duelling each other in a knob-tweaking, vocal-shifting death match, with Moby's early stuff taking the role of referee.
The EP then shifts into the killer mode, shredding all in its path into a submissive guest of the glorious R&B shuffler and EP namesake 'Tryst (feat. Hazel Brown)'. This is like an amalgamation of all the flaming Future Classic stuff being rolled into a delectable, bit-sized treat that'll actually chuck an Alien and burst its way out of your chest. Don't get cocky. Although 'Tryst' shares a mild, surface resemblance to Flume's early track 'Sleepless (feat. Antony for Cleopatra)', Tincture goes off in a completely different direction than Flume, preferring to bump and grind rather than contort and twist. And honestly, I prefer the way Tincture's doing it.
The next tracks, 'Treepanning' and 'Need U' include even more of Dalton's vocals, and at this point, it becomes obvious that Marcus Whale, and his various projects are probably a massive influence on Dalton's work. Whale's signature hushed tones cut with splotchy 'n' spliced electronica are faithfully re-interpreted to mass effect by Tincture. The R&B vibes become more focused and concise, and the splayed synths take on a more backseat feel, as the vocals become the main attraction. In case you've had trouble picking through the adjectives, this means that Dalton's doing a spectacular fucking job.
Finally, 'Heavy Water' closes out the EP, and by the pubes of Skrillex does it shake things up. There's some solid Major Lazer vibes, with steel-drum lazers shooting through a futuristic atmosphere of pipes and chopped female vocals. It's like running through a smoky midnight jungle made entirely of Prince's clothes and neon leftovers from Oscar Key Sung. 'Heavy Water' is fucking lush and exotic, alive to the touch, and probably the most friendly track on the EP.
Without gushing too much, Tincture has bolted out of the gate on his debut EP. But not only has he shunned competition, he's finished this race and the next one, all whilst the competitors are tying up their laces and trying out that sick new pedals they stole from Astral People's garage. 'Tryst' is an EP that moves with fluidity and confidence, and is helmed by a master of their craft.
For just $7, you can own a slice of amazing, available on Tincture's Bandcamp right here.