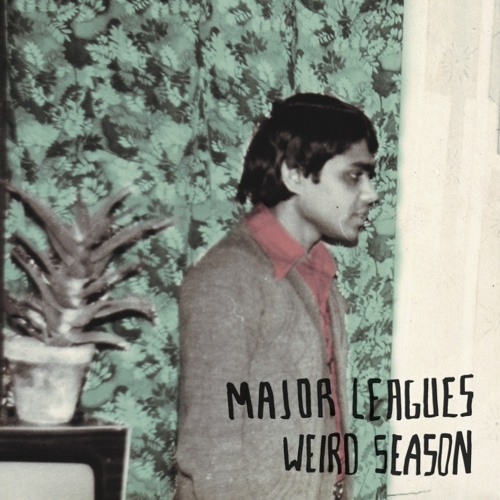 Weird Season indeed! These Brisbane gals think they can just…invert and drain the colours of the cover of their debut EP?! What kind of travesty is this? Are we living in Cold War-era East Berlin? Are we under the domineering rule of some sort of tyrannical warlord? You can't just…just…well, actually it looks pretty good. And the music on the EP is hella awesome. So, I guess Major Leagues get a pass on this one…but if The Lumineers try this shit, there will be hell to pay!
To give some background context, Major Leagues are a surf rock/shoegaze/dream-pop/delectable nearly all-girl band from Brisbane. And guess what? They rule harder than a My Bloody Valentine band having a rock showdown with a Pavement cover band. On a side note, wouldn't that be great to see? Anyway, onto the topic of conversation that is more awesome than that musical duel to the death, this frankly gorgeous band ahve finally gotten around to releasing their debut EP, a record so chock-full of amazing music, they should just rename it the Ultimate Shoegaze Burger w/ A Side of Greatness EP
Opener 'Silver Tides' channels My Bloody Valentine like I channel garage-pop into my brain. Besides the droney guitar, there's also a cutesy, wide-eyed and head-boppin' chorus to offset the nauseating guitar lines in the verses. A teen-ballad to the core, its a track that would make both Kevin Shields and Best Coast very proud. After that opener, we're introduced to 'Feel', a song that is Pavement/Guided By Voices-esque in structure. However, with that teenage vibe still going strong, and the feeling that this song was created after a really bad breakup and a really good surf, you lose sight of the influence, and can focus on the greatness of the track.
So far, so good. Onto 'Endless Drain', a track you probably know better as 'Oh…Oh my god! It's that song, turn it…turn it up, turn it up!'. Catchy like the fish-of-the-day at your local seafood joint, 'Endless Drain' rolls around and around in your head like that crush on that girl you've known since kindergarten. Next, it's 'Teen Mums', a song title every parent fears and every high school unfortunately owns. Starting out longingly, and only getting more so, this is a track that everyone wishes they could write, but few actually can. That might seem like an overstep considering its basically just a 'I wish he was my boyfriend' shtick, but its because so many of those songs go through my head, and this one actually sticks out that ensure that 'Teen Mums' is a song to focus on. Last but not least, its 'Creeper', the loudest track on the EP, and a splashy, blasty and fun way to end out the EP. Dripping with some cool-as-Kim-Deal feedback and squelching its gumboots in every emotional puddle that the average teen goes through, 'Creeper' is the best way Major Leagues could have finished off their debut EP.
Overall, its hard to find any real fault with Major Leagues first major record. It follows in the footsteps that have gone before with the girly guitar pop, but it does it damn well. Besides Go Violets and Bloods, its hard to think of an Australian band doing what Major Leagues do to such a great degree. Awesome stuff!
Major Leagues are playing their last show in Brisbane for ages this weekend, so that's a total bummer, however, to tide us over, they've politely put the last three tracks up on their Triple J Unearthed Page. So, enjoy that shit and wait in unhealthy anticipation for Major Leagues to tour again.